The key to power and efficiency lies in the data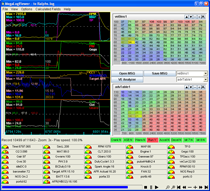 MegaLogViewer is an application to view and graph all Megasquirt Log files, Buell . Or any delimited file for that matter. It will graph any field in your MegaSquirt(I, II, MSnS-Extra...) log file captured by TunerStudio, MegaTune or Palm based MS-Logger. MegaLogViewer allows you to add any fields to your log files, they will automatically be detected and available for view and display, no MegaLogViewer configuration changes needed.
MegaLogViewer is user friendly application, you will find it to be very stable and work as you expect with a refined feel. To give you more power MegaLogViewer will analyze and tune your VE tables for you with VE Analysis.
VE Analysis
is built on a flexible Engine that performs multiple calculations on each log record that passes filtering criteria. No special configuration changes are needed to achieve accurate results.
Some of the many MegaLogViewer Features:
Automatic VE Table Tuning
MSQ File Table Editing
Auto Update - check here for more info on Auto update
Scale change, up to 8x zoom
Playback from 1/8 speed to 8x speed
Overlayed Graphs
Compare mode - Overlay second file values
Wideband O2 - AFR calculations
Calculated Fields - RPM/Sec, Vacuum, Boost, PW-1. See Math Parser
Frame to table Cell display
Mass Air Flow mapping
Custom Formulas with free hand math
Save Graph to Jpeg for easy posting to web
Customizable colors, gauges and UI features.
User friendly interface that saves all settings and enables navigation by keyboard, buttoms and mouse.
Text Math Parser for custom extensions and fields